Hehehe… The place looks kinda small and crowded setting for my hamsters with all those stuffs in it.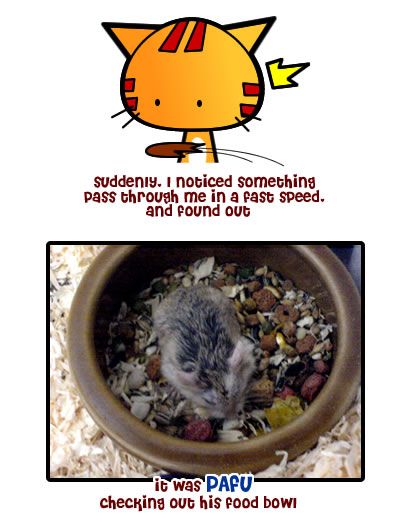 Hahaha This is Pafu who is actually 1.5 times the size of Wafu (one of the ways i differentiate them). Pafu likes food very much. And usually nothing can stop him from eating his seeds even if I go and poke caress him while he's eating. I love to do that too hahahaha as he always doesn't really care about it. Hahaha

He really does loves his seeds very much. =.=
It happened so fast right after I cleaned the tank and put Wafu and Pafu back in it. While Wafu went and checked the place out, Pafu rushed to the food bowl (as usual) and sniffed up all the seeds there. And suddenlt, he just lied flat in the bowl and doesnt move anymore…
No matter how I called and poked him..he showed no responses..not a single move.
What a pig.
Related posts: